Chris and Summer: They made it happen!
THE STORY
We met Chris and Summer at an open house about 3 years ago. They were just getting familiar with the market and trying to decide on when the right time to move would be. They knew they wouldn't be in their current home forever. .
THE CONCERN
Fast forward to the end of 2020, it's time for a bigger house. Their 2 bedrooms and 1 bathroom home had served them well for a long time but their family is growing and it was time for a bigger home. The main problem was that they had to sell their current home before they could move, and there's no way they would be able to pull off moving twice. Pair that with the aggressive seller's market they would be jumping into, it seemed impossible to move. We met with them and discussed their goals, learned about the criteria in their new home, and listened to their fears around selling and buying a home. Another issue that we uncovered was that they also had a tenant living with them in the guest unit. This could present some serious challenges when trying to market their current property online and coordinating showings. We needed to be strategic with our approval and simply throwing the house on the market wouldn't cut it.
THE SOLUTION
What we decided to do was prepare the home as if it we were going on the market. We staged it, we did preliminary inspections, when they were ready, we took photos, video, 3D matterport tours, and built a beautiful website. That website was then distributed out to a database of local buyers, and agents in our network. Through social media, email, and a small burst of calling potential buyers in our database, we lined up 3 interested buyers without the home even going on the market.
THE RESULT
Selling the home for over asking price, securing a long rent back period so they had plenty of time to find the replacement, and an escrow long enough to give the tenant time to move out.
With their home sold, they continued on to search for the perfect replacement. It wasn't easy. They made offers on 5 different homes and got beat out on each offer. Well, technically, 1 of those offers was accepted, but didn't work out - that's another story.

Enter dream home. The 6th time was the charm. We showed Chris and Summer a home that blew their (and our) socks off! It showed beautifully and came with a pool! It was at the top of their budget and we were competing with buyers that completely removed ALL contingencies. Without getting into the micro details of the offer, let's just say that Chris and Summer, with the help of their pro mortgage broker, real estate agents made - it - happen!
Today, they close escrow on their dream home. Their kids each have a room (with room to spare) they have a pool, they live on a cul de sac, they live in Roseville, and they have a 3 car garage. And can I just remind you that THEY HAVE A POOL!?!?
All thanks to their strategic planning, their fortitude, and their desire for a better life for their family.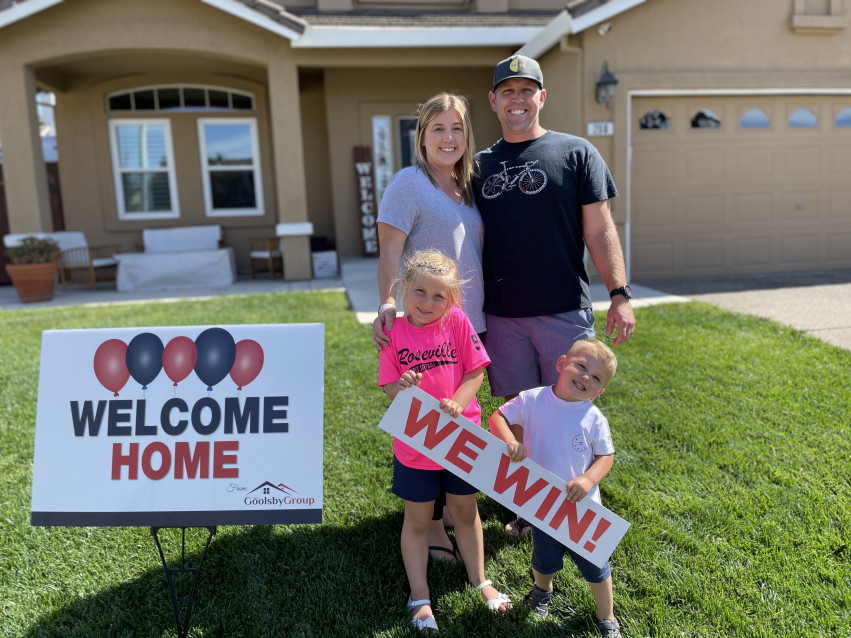 SPECIAL THANKS
Special thanks to Mortgage Broker Drew Shade for the hard work to craft the perfect loan. To Laura Marshall for tenaciously showing every home as soon as it hit the market (and some that weren't). And to our cooperating agent Jamie Perroz who brought the most amazing buyers to Chris and Summer's home for sale.