Roseville's Favorite Walking/Running/Biking Trails
Maidu Regional Park:
For a perfect weekend walk with the family, visit Maidu Park where you can find the Museum & Historic Site. Tour the ancient Maidu Indian village site (#45) to see petroglyphs and bedrock mortars. And be sure to catch the trail next to the Center and walk through the interior of the park (outlined in orange), or around the outer edge of the park (outlined in blue), for a 2 mile loop.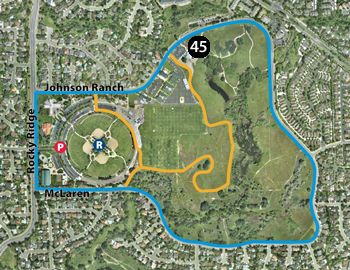 Dry Creek Trail:
This is a 3.17 mi trail in Roseville, that is both dirt and paved. This wonderful trail can be used for walking/running, and biking to enjoy the beautiful wildlife. The trail has a total ascent of 13.84 ft and has a maximum elevation of 113.98 ft.
Miners and False Ravine Trails:
You'll find this trail at Sculpture Park behind The Home Depot on North Sunrise in Roseville. Go through some of Roseville's most beautiful open space and wetland areas. Choose to take the Miner's Ravine Trail which leads to Sierra College Boulevard, or take the False Ravine Trail. Make a stop at Piches Park and enjoy a picnic or a game of basketball. Both trails are nearly 3 miles one-way.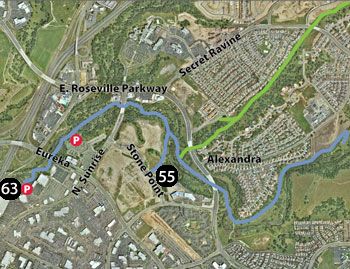 Pleasant Grove Creek Trail:
Find the south branch of the Pleasant Grove Creek Trail at Veteran's Park and walk/run/ride through beautiful open space and majestic oak trees. The one-way trip between Veterans Park (#71) and Blue Oaks Park (#5) is 1 mile. You can stop along the trail to spend some time at Baquera Park (#2).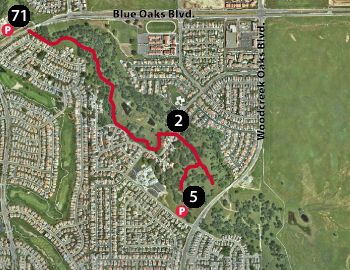 If you're looking for some more trail information in Roseville, be sure to visit the Roseville Website.