5 Tips to Stage Your Home

1. Packing away personal items
This is one of the simplest, and cheapest, things you can do to sell your home quickly.
As a well known principle, removing personal items helps to encourage buyers to view it as their potential home.
Prospective buyers won't be able to picture themselves in the house if they're surrounded by dozens of photos of your children and family members.
Pictures can be very distracting, and it is also recommended to remove religious symbols making the house a neutral area in which anyone would feel comfortable.
In addition to attracting the buyer, "you want the buyer's agent to enjoy showing the home," Radice says, because even if this particular buyer isn't interested, the agent might represent someone who would be a good match.
The cost: $2 to $3 for a roll of packaging tape. Assuming you already have the scissors on hand and can find the boxes for free from a neighborhood store.

2. Ridding your home of clutter
Another simple way to get buyers to focus on the bones of the house, not the titles in your DVD collection.
Often times, this can be the most difficult part for sellers because they are emotionally attached to the items in the home.
Clutter collects in such a way that may not be evident to the homeowner. However, it does affect the way buyers see the home, even if you do not realize it. Most commonly, clutter collects on shelves and countertops, in drawers, closets, garages, attics and basements.
If you are hurting for garage space to store all of the clutter, it is recommended that you rent a small storage area, or even better, ask a friend or relative to hang on to your items for free.
If you feel like you are packing up 90% of your home, you're doing it right.
The cost: The price of a storage unit varies (around $45 a month for a 5-by-5-foot unit).

3. Rearrange the rooms in your home
In order to reel in prospective buyers, make sure each room has a distinct, useful purpose.
Touring builders' models to see how the rooms are furnished is a great way to get ideas.
Closets must be neat and organized, that means getting rid of those shoes you haven't worn in the last year.
If your home has been painted recently, consider yourself ahead of the game. If not, take a paintbrush to the rooms that need it most. Sellers who paint the interior of their home will see a large return on the investment.
The cost: Anywhere from $12 to $50 per gallon for paint, plus another $10 to $50 for other painting supplies (primer, brushes, dropcloths, etc.) You can get back some of that money as a refund on your taxes for any items you donate to charity (such as those extra shoes in the closet).

4. Make sure your home shines from top to bottom
No one wants to look at a dirty, smelly home - especially not prospective buyers.
Cleaning and deodorizing a home before every showing should be first and foremost.
When buyers see an unkempt home or smell something when they first walk in, they become turned off immediately. They can rarely see past it to look at all of the great features in the home, so be sure to clean thoroughly and keep the home spotless and fresh smelling.
Having the home professionally cleaned would not be a bad idea.
Baking cookies in the oven, bringing cinnamon sticks to a slow boil in a pot of water, using air freshener to mask smells before each showing, and ridding the home of litter boxes are all some of the best ways to ensure the home smells great for the showing.
The cost: Varies by the location and size of the home, but typically less than $100 to clean a 4-bedroom, 2,500-square-foot home. Cookie dough runs about $3.

5. Whatever you do, do not overlook the home's exterior when selling.
Curb appeal is just as important as cleaning the inside of the home; it's the buyer's first impression of your home.
Because you only have one chance to make a first impression. …You want your home to stand out.
Mow the lawn, make sure the sidewalk and driveway are free of clutter and debris, and ensure the house number is easily visible.
It may also be beneficial to pressure-clean the exterior of your home, driveway and sidewalk, if needed.
Another valuable low-cost solution you may ask? Mulch.
Mulch is cheap and covers a multitude of sins. It makes everything look trim and neat.
The cost: Mulch costs around $3 per bag. The cost of renting a pressure washer varies, but you may be able to get one from a local hardware store for around $50 per day. It may cost double that to purchase a pressure washer. Professional cleaning with a pressure washer for a 2,500 square-foot-house may set you back about $250.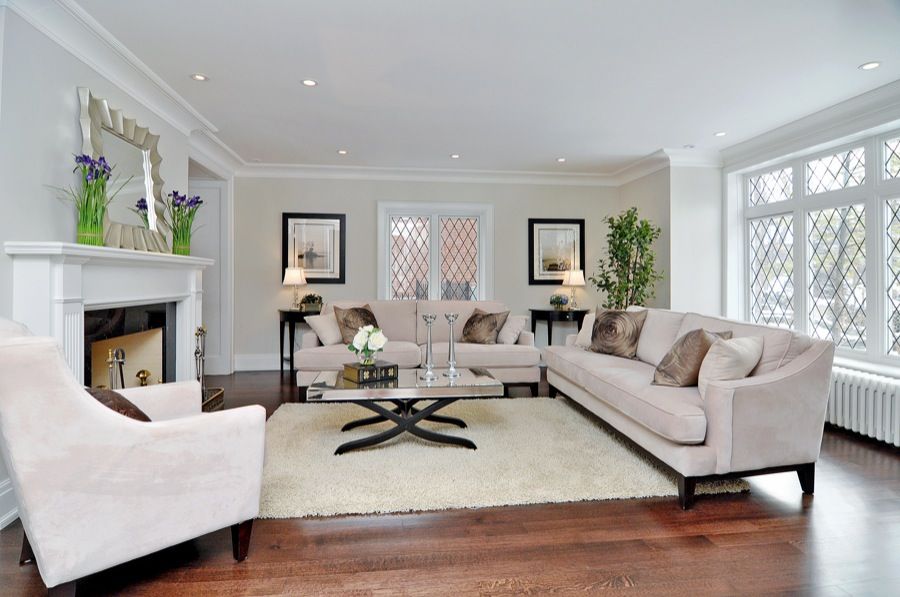 6. There is no 6, but we hope you found this article helpful on how you can stage your home for cheap!
It will most definitely pay off in the end!